THE MOST VERSATILE DESTINATION IN THE MIDDLE-EAST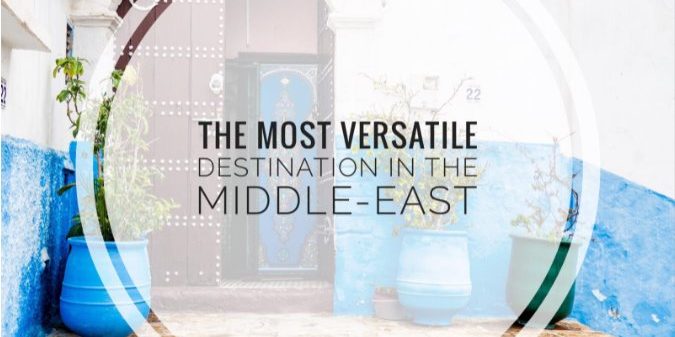 Most Versatile Destination In Morocco :
Morocco really is the perfect people pleaser, located in North Africa and just a couple hours from the United Kingdom this little tropical paradise really does have so much to offer.
This is particularly true for adventure travellers more interested in extreme tourism – most notably because of its beautiful desert that is widely undisrupted by the public.
The Most Romantic Destinations In Morocco
Although, you don't have to be up for a desert hike to make the most out of this beautiful country; we thought we'd share some of our favourite and most recommended experiences and activities to get involved with during your visit.
In theory this is the perfect holiday destination regardless of the kind of tourist you are.
Firstly, the weather! Most Brits love a sunshine escape, that rush of warm air as the plane doors are opened is something, we all crave – particularly when we know we've left behind a cold and wet Heathrow airport.
Being located in the middle-east and northern Africa the summer season in Morocco sees an average temperature of 29 degrees Celsius during the day and a low of 21 degrees Celsius at night. Definitely the perfect heat to get your skin glowing from vitamin D.
Since the weather is so luxurious it is probably no surprise that many tourists like to take advantage of the gorgeous beaches, I mean after all this is the north African coastline with many stretches of coast with miles of golden sand and calm water.
We've listed before the top beaches to visit whilst in the country so be sure to check out that article when making your decision of which beaches to visit. Similarly, surfing is a big culture trend in Morocco with many different beaches having 'beginners surf courses' which will teach you to surf in just a half a day.
A water sports adventure holiday set in with a gorgeous backdrop of blue water, heat and golden sand – BLISS! One of the top beaches to enjoy both the water and sand is for sure North of Agadir where the charming fishing village of Taghazout which has miles of luxury beach and waves perfect for learning to surf.
If the beach life isn't for you then don't worry as Morocco has plenty of other amazing qualities to offer. Perhaps the most common is the Sahara desert tours which with the help of Morocco Vacation Packages can be arranged on camel back with local tour guides who know all the best routes and spots to show of the incredible open dunes. Just remember to pack sensible clothing and plenty of sun-cream!
Similar vibes to the desert tours are the Atlas Mountain range which is home of some extremely high peaks, reaching a towering 4,167 meters! These mountain hikes will push your limits but the views and unique experience you'll take away are truly and forgettable.
With much of this being a once in a lifetime experience you should make the most of this opportunity and head to Southwestern Morocco to take in this beauty.
Obviously, we know extreme tourism isn't for everyone that's why we've chosen to note down the abundance historical architecture and Jewish artefacts that are widely available for sightseeing and a dose a culture.
Planning A Budget Friendly Honeymoon In Morocco
Hassan II Mosque, located in Casablanca is the largest mosque in Africa, and the 5th largest in the world, its minaret is the world's tallest minaret at 210 metres and was completed in 1993; this is for sure worth visiting on your trip, we know so many tourists marvel at its beauty every year.
These are just a few examples of the wide variety of activities you can expect to be available on your trip to Morocco. We are sure that no matter who you are or what you are interested in Morocco's versatility will have something for you.