FESTIVALS TO ATTEND IN MOROCCO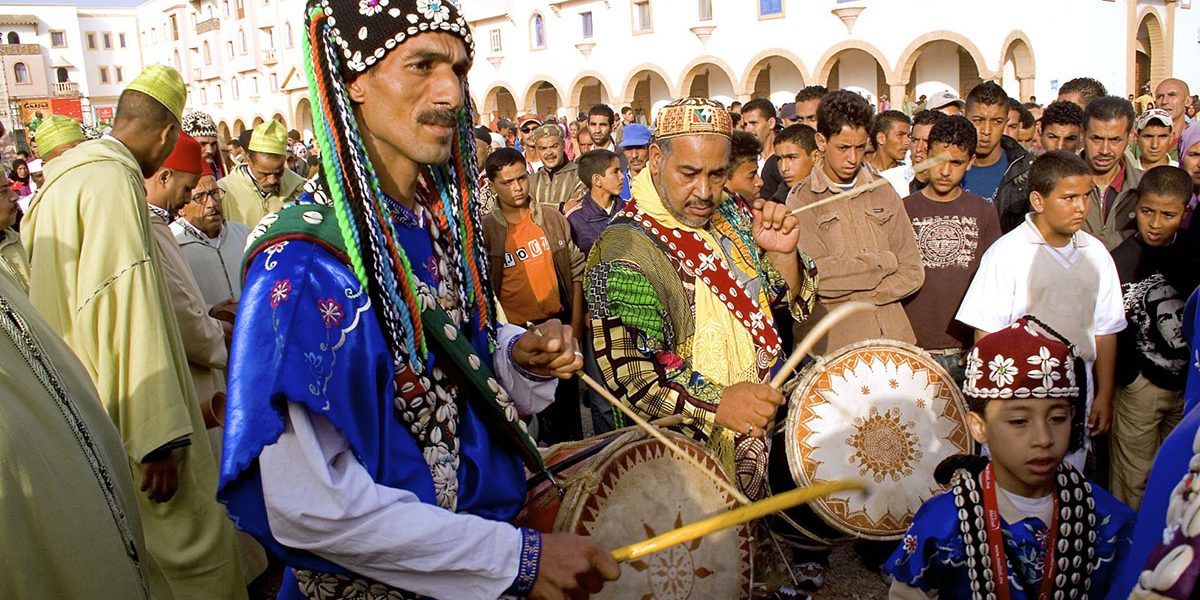 It's no secret that Morocco is one of the most versatile locations to visit in the middle-east, but aside from the vibrancy, tropical weather and extreme environments Morocco also plays hosts to a number of unmissable festivals. As a tourist these festivals are a great way to dive into traditional life and experience true Moroccan culture.
If you are into music then there are three key festivals we're sure you would love.
Fes Festival of World Sacred Music – taking place annually in June this is a 10 day sacred music festival celebrating spiritual traditions from around the world. The festival kicks off with a four day Forum where politicians, social activists, academics and religious leaders come together to discuss the urgent issues of our time – this is known as 'giving soul to globalisation'. You can also expect to enjoy; intimate afternoon concerts, art and film exhibitions, poetry readings, one-day excursions to the Roman ruins of Volubilis, evening concerts and surf nights.
Gnaoua Music Festival – this 4 day extravaganza takes place over four days featuring; art exhibitions; Gnaoua style; world and jazz music. Celebrated annually in the beautiful city of Essaouira (a gorgeous seaside resort). The festival attracts an audience of 500,000 fesitval-goers and offers a rich program with the common goal of emphasizing the Gnaoua heritage. Groups from Tangier, Marrakesh, Essaouira as well as internationally perform at the Place Moulay Hassan and other spaces in the Medina (which is a UNESCO World Heritage city) and outside its city walls. This festival is not all about Gnaoua, after 9pm every evening audiences will hear the sounds of the other non-Gnaoua jazz musicians.
Timitar Music Festival – this is another annual festival held in Agadir, it features over 40 artists and a 500,000 audience. The festival has established itself as one of the premiere African music festivals, considered today as one of the biggest festivals in the country. Timitar provides its audience with an event well rooted in and actively working towards promoting Souss Massa Drâa culture.
Read More : Morocco top 10 destinations for travellers
Aside from music orientated festivals there are a few others that are totally worth attending.
Imilchil Marriage Festival – an annual celebration of love and the Berber Tradition taking place every year in September. This is located on the beautiful lake plateau of Middle Atlas Mountains. Many people know the festival as September Romance and annually local single woman attend in order to choose their husband. 30,000 people from the mountain assemble under tents for three days with their flocks, horses and camels. If a bride says the magic phrase, "you have captured my liver or my liver pines for you", it means that she has found her love. Liver not the heart is considered the location of true love because in Berber culture it is believed that a healthy liver aids digestion and promotes well-being.
Rose Festival, El Kelaa De Mgouna – okay so technically this does involve some music but there is also singing, dancing and the election of a Ms. Rose. Taking place in the hidden oases of the Dades Valley ala the pink town of El-Kelaa M'Gouna or more affectionately referred to as the Valley of the Roses. Taking place annually in May this three-day festival is the perfect place to emerge in traditional culture.
Sufi Festival – enjoy a celebration of Sufi spirituality, performance, poetry and workshops during this eight-day festival, taking place in April within the popular tourist city of Fes. This festival brings together religious leaders in Sufism and artists from around the world. The festival offers tourist a great opportunity for tourists to discover Morocco's spiritual heritage and to display a side of Islam that is not often understood.
International Film Festival, Marrakesh – typically held over the fall or winter of each year this is the largest event devoted to film that attracts leading Hollywood film directors and stretches over a four-day period. It is renowned for its prestige in terms of cinematographic production and is comparable to the Cannes film festival in the south of France.
Read More : Morocco's Natural Beauty
We hope everyone can find something they would love from those seven options but if you don't remember that Morocco still has plenty of life and culture to offer outside of its festival industry.