7 REASONS WHY IT'S ABOUT TIME YOU CONSIDER HONEYMOONING IN MOROCCO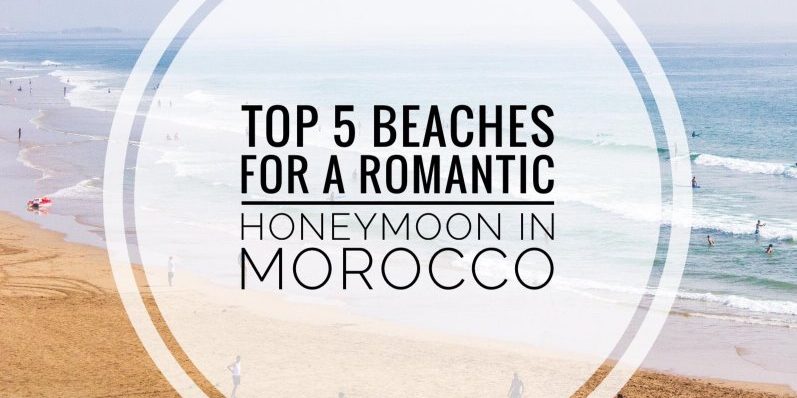 Top 5 Beaches In Morocco :
There are so many reasons why Morocco makes for the perfect holiday destination and beaches, for many, are a massive pull factor.
If you love the beach then Morocco will be no disappointment as we've put together this top 5 list of our most recommend beaches to visit in the north African gem that is Morocco.
Read More : Top 6 Destinations For Honeymoon in Morocco
Firstly we start in southwest Morocco in Sidi Ifni, Legzira , Located on the Atlantic shores this peaceful paradise is home to Spanish art deco flair and artsy murals – this is a secret hideaway far from commercialism and perfect for those long romantic strolls you newlyweds are craving.
This is one of Morocco's most unique stretches of sand with a magnificent thousand-year-old rock archway formed from years of erosion – the perfect backdrop for any honeymoon selfie.
We would recommend visiting at least once during low tide so you are able to walk through the arch and admire the sound of crashing waves from within this incredible coastal feature.
If you are planning a trip to Morocco it is likely that you'll have come across the popular tourist city of Aghadir but did you know that an hour north of there lays the charming fishing village of Taghazout which just spoils visitors for luxury beach choices .
This town is also known for its incredible surf scene giving it the perfect mix of activities and relaxation. We struggled to pick just one beach and there are miles of golden sand to enjoy .
Planning A Budget Friendly Honeymoon In Morocco
however we've settled on La Source since this has the perfect golden sand and waves fit for beginners – the area even has beginners surf camps which give you a half days course to get you up to scratch with surfing know how.
Since this is a little fishing village the main square displays plenty of fresh produce and souvenir shops for you to indulge in a little TLC – the seafood bars, restaurants and colourful surf shops are the perfect place to find your zen and feel peaceful.
Staying on the water sports theme we would also recommend Moulay Bouzerktoune in Essaouira. 60 years ago Essaouira was a hub for hippies and those involved in the counterculture movement, it has maintained this electric spirit and is now a magnet for water sports fans with Moulay Bouzerktoune being at the center of this buzz.
Since there is plenty of wind these beaches are best for kite and windsurfing. When you're tired out from all manners of adventurous activities, refresh with fresh oysters and sea urchins at the fish market. Or head to some of the city's hip galleries and boutique shops.
The Most Romantic Destinations In Morocco
Next, we had to recommend the gorgeous Rmilate Beach in Asilah as this place is dubbed as Paradise Beach – even the locals can't get enough of its beauty! However, this place is far less crowded than the centrally-located beaches so you and your new spouse will be sure to find a spot to roll out some towels and soak up that African sunshine – plus this place is always complimented on its cleanliness.
Located a few kilometres from the fortified town of Asilah, which is about an hour from popular tourist destination Tangier this is a fantastic spot for newlyweds to enjoy the romantic atmosphere.
Plus, you can even take a horseback ride along the beach which is offered out by locals – how romantic! The town itself is vibrant with colourful murals covering buildings and cultural festivals brightening it up throughout the year.
Finally we're recommending the beautiful Oualidia and more specifically The Lagoon . Roughly halfway between Essaouira and Casablanca, Oualidia is one of Morocco's best-kept secrets.
The focal point of this small town is a sapphire-colored lagoon. Not only is this lagoon bordered by serene beaches, but the seafood to be found here is otherworldly. Oualidia is dubbed the oyster capital of Morocco!
In the spring and summer months, you can spot pink flamingos in the lagoon. Year-round, travellers can walk along the pristine beaches or take a swim in the calm waters.
Alternatively, venture through the lagoon on a short boat ride to the sandy island within it for some more secluded sands.
On your adventure to Morocco we would 100% recommend visiting one of these fabulous beaches and taking in the local culture they offer, be that water sports or food we'd love to hear about you getting involved!